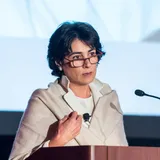 Dr Lama Al Sulaiman
Businesswoman and women's rights pioneer
Biography
Dr Lama Al Sulaiman (PhD Nutrition, 2004) was voted in as a board member of the Jeddah Chamber of Commerce and Industry (JCCI) in 2005, making her one of the first women to win elected office in Saudi Arabia. In 2000 – after gaining a BSc in biochemistry and, later, a master's in health and nutrition from King Abdulaziz University in Jeddah – Lama joined forces with her cousin to open the first female-only health club in the city.
In 2009, Lama was named Vice Chairwoman of the JCCI, becoming the first woman to hold such a post in Saudi history. As a result, she became an unexpected pioneer of women's rights in Saudi Arabia. Gaining knowledge on labour laws and gender issues, Lama raised the importance of equality, diversity and inclusion in both industry and wider society, leading to more discussion around opening up opportunities and removing barriers for women in the workplace. She subsequently became head of the Saudi employer delegation at the International Labor Organization, representing the private sector and spending eight years in the role.
Lama also became President of the JCCI's Khadija Bint Khuwailed Center, supporting Saudi businesswomen, and she founded the consultancy Family Business Partners, having been invited by her father to join Rolaco Holdings – a family business – as a board member and business developer. As well as being mother to three grown-up boys and one girl, in 2011, Lama was named the fifth most powerful woman in the Arab world in a list of 100 compiled by Arabian Business.
In 2015, Lama made history again when she won a municipal election and became one of the first female politicians in Saudi Arabia. It was the first time Saudi women had been allowed to vote, let alone stand as candidates, and Lama was especially jubilant having just weeks before been told she had beaten breast cancer. Three months later, Lama resigned from Jeddah Municipal Council, quietly renouncing the powers the election had granted her, after stating that her male counterparts' behaviour had made her remaining on the Council untenable.
Lama has held numerous executive and non-executive roles, including Vice Chair at Kingdom Holding Company – the world's foremost value investor – and has been a member of the Ministry of Labour Advisory Board on women's issues. She has been a guest expert at UN Women and a fellow of the international non-profit organisation Aspen Institute, whose aim is the realisation of 'a free, just, and equitable society' through leadership development initiatives and policy programmes. As a member of the Aspen Global Leadership Network, Lama shares the community's commitment to tackling the foremost societal challenges of our time.