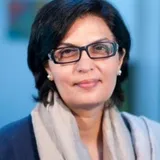 Dr Sania Nishtar
Senator and global public health expert
Biography
Dr Sania Nishtar (PhD Medicine, 2002) is an internationally acclaimed public health and development expert. Having graduated from Khyber Medical University at the top of her class in 1986, she joined the Pakistan Institute of Medical Sciences as a cardiologist in 1994. Sania worked at Guy's Hospital and studied Medicine at King's, graduating in 1996 and gaining her PhD in 2002. She has been a fellow of the Royal College of Physicians since 2005 and was awarded an honorary Doctorate in Science, Honoris Causa, by King's in 2019.
Sania founded the non-governmental organisation think tank Heartfile in 1998, abandoning a lucrative career as Pakistan's first female cardiologist. Heartfile is now a powerful health policy voice and catalyst for health reform in Pakistan. Sania is the author of six books, including Pakistan's first compendium of health statistics, and more than 100 peer-reviewed articles and op-eds. She also led the Pakistan Lancet Series on Health Reform. One of her books, Choked Pipes, an analysis of Pakistan's health system, is widely recognised as a call for reform.
Previously serving as a federal minister in the Pakistan interim government in 2013 – when she was instrumental in establishing the country's Ministry of Health – Sania was elected to the Senate in 2021. From late 2018-April 2022 Sania served as Special Assistant to Pakistan's Prime Minister and Federal Minister for the government's Ministry of Poverty Alleviation and Social Safety. She is the founder of Ehsaas, the Pakistani government's flagship social protection programme, and chaired the Council on Poverty Alleviation as well as the Benazir Income Support Program during this time.
As well as in-country experience, Sania is or has been a member of several international working groups and task forces: she was the Pakistan Government's nominee for Director General of the World Health Organization (WHO) in 2017, making the final shortlist of three.
Sania has been Co-Chairs of both the WHO Commission on Ending Childhood Obesity and the WHO Commission on Non-communicable Diseases. She also served as Co-Chair of the World Economic Forum's Global Agenda Council on the future of healthcare; as well as Co-Chair of the US National Academy of Sciences' global study on healthcare quality in low- and middle-income countries. In addition, she is a member of the UN Global Alliance for Poverty Eradication and has previously chaired the UN University International Institute for Global Health's Advisory Committee. Sania also served as the Chair of the UN Secretary-General's Independent Accountability Panel for Women's and Children's Health.
Sania has received many international awards for her work, including Pakistan's prestigious Sitara-i-Imtiaz (Star of Excellence), the European Societies Population Science Award, and the Rockefeller Foundation's Global Innovation Award. In 2020, Sania was listed in the BBC's 100 Women.