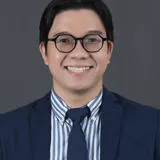 Mr Duong Le MD, MSc
PhD Student
Contact details
Pronouns
he/him
Biography
Duong Le is a Palliative care – Geriatrics medical doctor from Saigon, Vietnam. He is dedicated to providing compassionate care and has been actively involved in medical and nursing education at the University of Medicine and Pharmacy at HCMC.
His motivation comes from sitting and listening to patients' challenges and narratives, inspiring his clinical work and research. He enjoys working with his interprofessional clinical team. He is thrilled to work on the community-based palliative care project along with excellent experts and colleagues at King's. He enjoys some moments of stillness and reflection.
Duong's research interests include advance care planning, medical decision-making, end-of-life attitude and preference, patient advocacy, interprofessional practice and palliative care education.