 Dylan Hendrickson
Senior Fellow and Editor in Conflict, Security & Development
Research interests
Conflict and security
International relations
Policy and society
Biography
Dylan Hendrickson specialises in the governance of security with a particular focus on the Security Sector Reform (SSR) policy agenda. He combines applied research with strategic policy advice to donors and the facilitation of security transformation processes in conflict-affected countries in Africa and Asia.
Dylan has been at King's College London since 1999. He joined the Department of War Studies in 2013 and is a member of the Conflict, Security and Development Research Group (CSDRG).
He is the Editor of Conflict, Security & Development, a peer-reviewed journal published by Routledge, and Adjunct Faculty at the African Leadership Centre, a joint King's - University of Nairobi initiative.
Dylan is also a Senior Security and Justice Adviser with the UK Government's Stabilisation Unit and on the ISSAT and UN SSR rosters, deploying regularly in support of these three organisations' operational work.
From 1999-2013, he was a Senior Research Fellow in the Conflict, Security & Development Group (CSDG), CSDRG's sister policy unit. He was closely involved in initial work by the UK Government's Department for International Development and the OECD-DAC to develop the donor SSR policy agenda. He subsequently worked with the UN, the EU as well as various bi-lateral donors and partner (aid recipient) governments on SSR programmes.
This work has consisted of applied research, policy advice, training, evaluation, and facilitation of SSR processes in some 20 conflict-affected countries across Africa, Asia, the Middle East and Latin America. 
Before joining King's, Dylan was an independent policy analyst working on issues related to conflict, security and peace processes in Africa and Asia for various organisations including Conciliation Resources, CARE International, IIED, UNHCR, UNICEF and the UK Ministry of Defence. Prior to this, from 1991-95, he worked as an aide to Cambodian opposition politician and Prime Minister, Prince Norodom Ranariddh, during the UN-supported peace process.
Research interests
My research covers the following areas:
Politics of security decision-making 
Governance of security institutions
Security sector reform (SSR) policy agenda
SSR and peace processes in Africa and Asia
Policy activities
Since 1999 Dylan's work at King's has primarily focused on providing practical support to international donors and partner governments engaged in security transformation processes in Africa and Asia. Current and recent activities include:
Applied research 
He is currently supporting an EU-financed study examining the "domestic impact" of peace-keeping, with case studies on Burundi and Uganda which both contribute troops to the African-led peace-keeping mission in Somalia. The study's aim is to better understand how income generated by peace-keeping missions is spent back home and the "developmental" impact.
In 2010-11 he was commissioned by Conciliation Resources to assess why the Juba peace process failed, with a focus on understanding the factors shaping and constraining the negotiations between the government of Uganda and the Lord's Resistance Army (LRA).
In 2007-8 Dylan led a comparative study on the politics of security decision-making commissioned by the UK Government which involved 25 Nigerian, Sri Lankan and Ugandan researchers. The study culminated in detailed policy advice for the UK on how to better integrate political analysis into its SSR programming.
Policy advice
Dylan is currently monitoring the evolving peace process in Myanmar (Burma) and assessing options for SSR to be integrated into future political dialogue between the government and the ethnic armed groups. In February he produced a report for the UK Government on options to support the nascent security transformation process in Myanmar.
In September 2012, he was deployed to the Central African Republic by the UN to advise the SRSG on development of a "road-map" to stabilise and rebuild the security sector.
He co-facilitated (in 2013) the development of a theory of change for DFID's Security Sector Accountability and Police Reform (SSAPR) programme in the Democratic Republic of Congo (DRC), which he helped design in 2009. He also advised the SSAPR on a strategy for an "action research" programme on security issues in the Eastern DRC (2012).
Evaluations 
Dylan was Team Leader on two major evaluations of EU assistance programmes, including its support for Justice and Security Sector Reform (2010-11) and the African Peace Facility (2012-13). Each of these evaluations covered a portfolio of projects worth approximately one billion Euros. 
Other recent evaluation work which he led or was involved in includes the UK's African Conflict Prevention Programme (2010); the World Bank's Amnesty Programme in Uganda (2008); UK cross-departmental SSR collaboration in Yemen (2006); DFID support for Provincial Reconstruction Teams (PRTs) in Afghanistan (2005); international financing arrangements for DDR (2005);  and the UK's SSR assistance programme in Indonesia (2002). 
Lesson learning 
Dylan is collaborating on the production of a "Handbook on SSR Good Practice in Africa" which draws on the experiences of African practitioners. This work was commissioned by the African Union, is financed by the UN and EU, and managed by the African Security Sector Network (ASSN).  
During 2010-14 he advised the Burundian Ministry of Defence on the methodology for its defence review, drawing on experience from the Ugandan review process which he had also advised on (2002-04). He facilitated a lesson learning process in both countries following the completion of their reviews.
For more details on my policy activities, please download Dylan's CV here.
Selected publications and reports
The Burundi Defence Review: Lessons Learned, Conflict, Security and Development Research Group, King's College London, May 2014 (Editor).


Security Sector Reform and Burma's Political Transition, Report commissioned by the UK Stabilisation Unit, Feb. 2014.


African Peace Facility Evaluation - Reviewing the overall implementation of the APF as an instrument for African efforts to manage conflicts on the continent, commissioned by the European Union, Sept 2013 (Team Leader).


Dealing with Complexity in Peace Negotiations: Reflections on the LRA and the Juba Peace Process, report commissioned by Conciliation Resources, Jan 2012.


Thematic Evaluation of European Commission Support to Justice and Security System Reform, Nov 2011 (Team Leader).


Security Sector Transformation in Africa: Challenges Confronting Bilateral Donors, in A. Bryden and F. Olonisakin (eds), Security Sector Transformation in Africa, Berlin: Lit Verlag, 2010.


La Reforme du Secteur de la Securite en Republique Democratique du Congo: Enjeux Strategiques, Issue Paper No. 4, Center on International Cooperation, New York University, Jan 2010 (with M. Kasongo).


State Responsiveness to Public Security Needs: the Politics of Security Decision-Making: Synthesis of Findings and Implications for UK SSR Policy, Conflict, Security and Development Group, King's College London, June 2008.


The Uganda Defence Review: Learning from Experience, Conflict, Security and Development Group, King's College London, Sept 2007 (Editor).


Trends in Justice and Security Sector Reform: Policy, Practice and Research, report commissioned by the IDRC, Ottawa, October 2005 (with N. Ball).
For a full list of Dylan's publications and commissioned reports, please download his CV here.
Research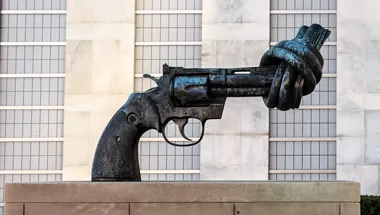 CSDRG undertakes a wide range of research, policy, advisory, and teaching activities related to conflict, security and development.
Research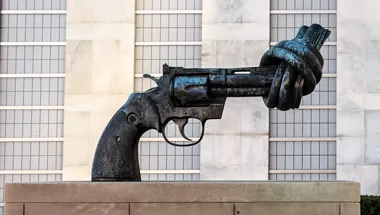 CSDRG undertakes a wide range of research, policy, advisory, and teaching activities related to conflict, security and development.