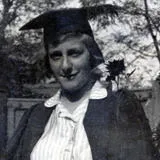 Edith Morley
Literary scholar and suffragette
Biography
One of the first women to obtain a degree from King's Ladies' Department, Edith Morley OBE (1875–1964) went on to become a literary scholar, a suffragist and the UK's first female professor.
She attended King's with fellow student Virginia Woolf and later studied for an external Oxford degree under the guidance of Vice-Principal of the Ladies' Department Lilian Faithful CBE. Edith was not awarded her first-class Oxford Honour School of English degree.
University College, Reading, became a university in 1908 while Edith was lecturing English there. She was the only head of department not to be awarded a professorship, simply because she was a woman. Outraged at yet another unacceptable discrimination, Edith successfully fought for her right to be named a professor, and succeeded.
Edith's time at King's also encouraged her to take a strong interest in politics and she became a member of the Women's Social and Political Union (WSPU). She marched, attended demonstrations and once used her professor title to sign a letter to The Times on behalf of the WSPU at Emmeline Pankhurst's request. Edith also continued to teach English at King's and was one of the original members of the London branch of the British Federation of University Women.
She committed herself to helping refugees during World War II, sealing her reputation for being a courageous and passionate fighter for human rights and freedom.
Did you know?  In 2017, a student-led campaign resulted in the Humanities and Social Sciences building at Reading University being renamed in Edith's honour.