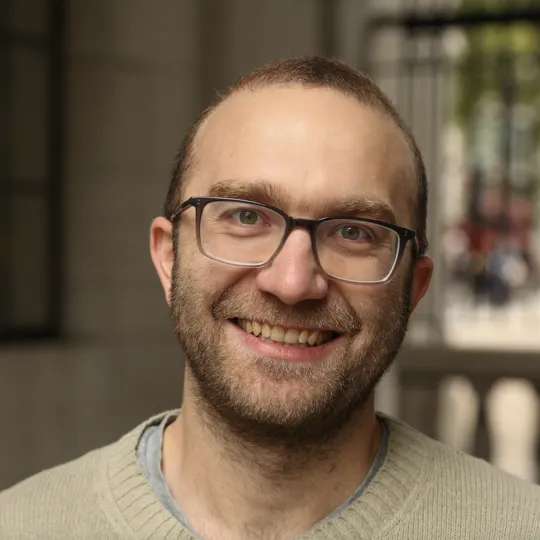 Dr Edward Sugden
Senior Lecturer in American Studies
Contact details
Biography
Edward Sugden joined King's in 2013. He researches nineteenth- and twentieth-century American literature in its most capacious designations. His first book Emergent Worlds was published by New York University Press in 2018. He edited an essay collection entitled Crossings in Nineteenth-Century American Culture, which appeared on Edinburgh University Press in 2022. He is currently writing a biography of Moby-Dick.
Research Interests
American literature in the long nineteenth century
The social function of American literature
Theories of time, space, and politics
Minoritarian and multilingual America
The first phase of Edward's research explored first, how books remember things that happened, but which have since been forgotten; and, secondly, how they archive realities that might have come into being, but did not. This interest underpinned his book Emergent Worlds which identified three genres (the Pacific elegy, the Black Counterfactual, and the Immigrant Gothic) that encoded and internalised incipient, not fully realised, political conditions in nineteenth-century America. It also led to an edited collection (Crossings in Nineteenth-Century American Culture) that catalogued alternative forms of self-identification in the era and articles on the imaginative power of blank space, contested zones in the Marquesas, and virtual forms of capitalism.
Recently he is more interested in what was and is, than what might have been. His current research looks at ways of objectively ascertaining how it is that works of the imagination have changed the world. The major project here is a biography of Moby-Dick which journeys into the many worlds created and made possible by this once obscure classic of American literature. He has followed up this research interest by setting up links between King's and organisations who use literature as a mode for social amelioration including The Reader and the Literacy Pirates.
He welcomes PhD applications from anyone looking to work with American (broadly construed) literature of the long nineteenth century and is happy to advise on projects even if they are at an early stage.
Teaching
Edward's teaching demonstrates to students the ways in which (American) literature has served as a world-creating, sense-making, and history-shaping entity. His modules emphasise that books are things that we live by. The analysis of them is therefore central to understanding how it is human societies organise themselves. More broadly, the conception of American literature that he offers to students is formally diverse, polyphonic, multilingual, and border crossing. For an example of how he applies these approaches, take a look at his "Coming of Age in America" module.
Expertise and public engagement
On the basis of his social and political investment in the importance of fictions in both the everyday and in history, Edward is very happy to hear from media organisations to talk about American literature and more to a general audience. His interest in exploring how narrative and the world intersect has led to articles in the Guardian and openDemocracy. He has previously appeared on BBC Radio 3 to discuss whales (having contributed to making a film with Philip Hoare and Jessica Sarah Rinland on the same subject.)