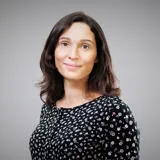 Dr Eleonora Pinto de Moura
Maths for Social Science Tutor
Biography
Eleonora holds a PhD in mathematics from the University of Warwick, a master's degree in applied mathematics and a BSc in mathematics from the University of Rio de Janeiro, Brazil.
Before joining King's Foundation, Eleonora spent three years teaching maths for the International Foundation Programmes at INTO London World Education Centre and at Cambridge Ruskin International College.
In 2017 Eleonora relocated to the UK from Brazil, where she was a mathematics lecturer at the Federal University of Rio de Janeiro, researching topics in fluid dynamics and teaching undergraduate students.
Eleonora enjoys exploring innovative approaches to enhance mathematical learning. She is particularly interested in experimenting with open-source digital technologies to create an accessible and absorbing learning experience.
­In her spare time Eleonora enjoys walks in the countryside and reading a good detective story.