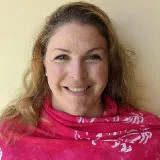 Elizabeth Gardner
PhD Student
Contact details
Biography
Gardner is a PhD Candidate in the Defence Studies Department. She comes to Defence Studies as a mature student with a previous established career in archaeology. She gained her MA (Hons) in Archaeology from the University of Edinburgh (2001) and holds full professional memberships of both the Chartered Institute of Archaeologists (MCIfA) and the Institute of Archaeologists of Ireland (MIAI).
Elizabeth's PhD studies initially stemmed from a family connection. A small personal archive became the nucleus of her PhD research into irregular indigenous troops in North Africa during the Second World War.
Research Interests: 
Second World War
British Intelligence Operations and Command Structures in North Africa and the Middle East During Second World War
Linguistics and irregular forces in military operations
Special Forces History
Military Policing and history of post conflict security
Thesis Project: 
The Libyan Arab Force: An indigenous Senussi volunteer force in North Africa from 1940-1943.
This thesis evaluates and challenges the existing interpretation of the Libyan Arab Force (LAF) and its actions in North Africa (1940-43). It builds a unit history to explore evidence for the formation, roles, activities, and significance of the LAF.
Following established patterns of indigenous co-operative forces, the LAF performed lines of communication guard duty and general policing functions as well as active front line duty, and support for British irregular operations. The narrative of the LAF as a colonial gendarme unit is established but its involvement in irregular and active operations is not.
In August 1939, the War Office's Military Intelligence (Research) department (MI(R)) despatched 102 Military Mission to Egypt under Colonel David Bromilow.  This mission became the HQ of the LAF when, in August 1940, it combined its remit with the formation of the LAF. It was a co-operative indigenous Senussi Arab unit under British command. The LAF guarded lines of communication, provided field intelligence and local liaison for the irregular operations of units including the Long Range Desert Group (LRDG) and the Special Air Service (SAS).  Multi-lingual officers were recruited with a bias towards men who had colonial and civil affairs administrative experience with organisations such as the Sudan Political Service (SPS). Colonial gendarme duties could be tedious and individual officers enter the historic record in a pattern of moving to roles with organisations such as MI6, MI9, Secret Intelligence Service (SIS), Special Operations Executive (SOE) and others.
By generating a unit history where none exists, this research clarifies what value this unit had in the Desert War. The thesis leverages evidence within interpersonal networks across colonial and post-colonial administration, such as the Sudan Political Service. It explores the operational and tactical roles of the LAF and its significance to wider British political and military strategy, as well as its significance for the internal politics of Libya. 
Supervisors:
Professor Ashley Jackson (Primary)
Dr Alexander Wilson (Secondary)
Book:
Wait, G., Thiaw, I., Copeland, T. and Gardner, E. (2018) Archaeology and Ethnography Along the Loango Coast in the South West of the Republic of Congo. Illustrated edition. Summertown, Oxford: Archaeopress Archaeology.
Contributions: 
Gilchrist, R. and Green, C. (2015) Glastonbury Abbey: Archaeological Investigations 1904–79. Society of Antiquaries of London. doi:10.26530/OAPEN_619339.
Lyons, A. (2020) EAA 170: Rectory Farm, Godmanchester, Cambridgeshire: Excavations 1988-95, Neolithic Monument to Roman Villa Farm. Cambridge: East Anglian Archaeology. 
Elizabeth Gardner PURE Research Profile here.