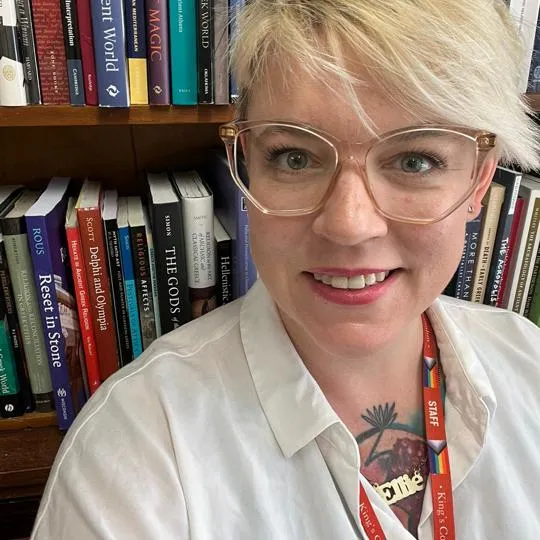 Dr Ellie Mackin Roberts
Lecturer in Classical Art and Archaeology
Contact details
Biography
Ellie Mackin Roberts holds a BA(Hons) and MA from Monash University (Australia) and a PhD from King's College London, which she completed in 2015. She has since worked at the University of Leicester and Royal Holloway, University of London before returning to King's in 2021. She has also held a Research Associateship at the Institute of Classical Studies. Ellie was a founding member of the Women's Classical Committee (UK) and served on the steering committee 2018-2022.
She is the editor in chief of Assemblywomen, a peer-reviewed video-based academic journal hosted by the WCC.
Research Interests and PhD Supervision
Ancient Greek religion
Material Study of Religion, including sensory responses
Archaic and Classical Greek art
Intersection of politics and religion in archaic and early classical Athens
Ellie's main research interests involve the material culture and art of ancient Greece, particularly archaic and classical Greek religion, and using theoretical frameworks related to the Material Study of Religion. She is also interested in textiles and weaving, and the role of women in the religious landscape of the ancient Greek city.
She is interested in representations of the gods and religious practice in art and architectural sculpture, and in the intersection of political institutions and religious practice in the ancient world.
Ellie is currently working on a large scale reinterpretation of the Athenian religious landscape using a framework from the Material Study of Religion, specifically focused around touch-based sensory expression.
Teaching
Ellie teaches on a variety of art and archaeology modules, mainly focused on Greece from the Bronze Age to the end of the Hellenistic period.
Expertise and public engagement
Ellie regularly posts short-form educational content on TikTok covering ancient Greek art, archaeology, religion, and history. She has been a guest on numerous podcasts including History Hit's 'Then Ancients', Shot & Chaser, and Let's Talk About Myths Baby.
Ellie often gives presentations in schools, at both primary and secondary level. Additionally she undertakes mentoring of A-level students from traditionally underrepresented backgrounds applying to study classics, ancient history, or classical archaeology at university, particularly for students who have not have the opportunity to take classics-related subjects at school. She was trained as a mentor through the charity Arts Emergency.