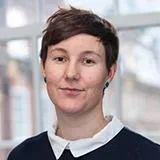 Elspeth Kirkman
Visiting Senior Research Fellow at the Policy Institute
Biography
Elspeth Kirkman is a Senior Director at the Behavioural Insights Team (BIT). Prior to her current role, she was the Managing Director of BIT's North American business. She has advised governments around the world on how to tackle complex policy problems using behavioural science, and is co-author of the book Behavioral Insights (MIT Press, 2020).
Elspeth studied at Warwick University with a BA in English Literature and an MA in Design and Communication. She has taught Behavioural Science on behalf of Warwick and Harvard Universities as part of their Executive Education programmes.
Please note that Elspeth is currently on maternity leave.