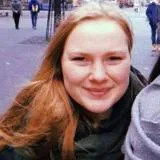 Emma Sandvik Ling
H4MoD Student
MA International Peace and Security
Contact details
Biography
Taking on a real world problem for the MoD is a massive task and I definitely feel a sense of responsibility. The pandemic has definitely made things more complicated as well, and we are experiencing that it is more difficult to get the interviews we need to move forward. The course demands a lot of us both in terms of time and brain power but its also a really fun experience!
I originally wanted to do this class because it was an opportunity to do something other than just reading academic articles and following lectures. Its great to get to apply the knowledge we get and see how different methods helps us drive our problem forward. . I have also really enjoyed working within my team, we have managed to work really well together which has really added to the experience. Lastly, its such a great feeling when we propose a suggested solution to interviewees and they respond "yes please!" it really makes all the hard work worth it!
The professors always tells us that the purpose of this module is to 'fail fast.' We learn so much from our mistakes and try to do better the next week! My teamworking and interviewing skills have definitely improved over the course of this module. Ive also learned so much about start-up methodology and the structure of the MoD. Im sure I'll be able to benefit from all of these skills moving into life after my Master's
The professors are really good at predicting the challenges we might face and helping us when we're feeling stuck. We get relevant reading material and lectures focusing on the lean start-up methodology and the professors help us apply the knowledge to our particular problems.