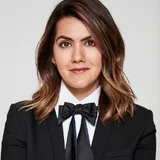 Farrah Storr
Editor and diversity advocate
Biography
Farrah Storr (French with English Literature, 2001) is an award-winning magazine editor and author, and the first Head of Writer Partnerships at newsletter platform Substack UK, spearheading the recruitment of new UK writers. Brought up in Salford, Greater Manchester, Farrah has spoken widely on the issue of inequality and was appointed Commissioner for the Social Mobility Commission (SMC) in November 2018 and Board Member of the National Theatre in 2021.
As Editor-in-Chief of ELLE UK from 2019 to 2021, one of Farrah's missions was to level up the world of luxury and attract a more diverse pool of talent to the media industry. Teaming up the women's glossy with the SMC (an advisory non-departmental public body aimed at creating a society in which circumstances of birth do not determine outcomes in life), Farrah introduced a landmark mentorship scheme. The mentorship programme set out to discover the next generation of creative talent in the UK, starting in 2020 by finding a cohort of 12 school students from some of the country's most economically challenged areas to help put together the landmark September issue of the magazine.
Previously, Farrah was Editor-in-Chief of Cosmopolitan. In her four-year tenure, she grew the brand to become the number-one UK women's glossy. This followed her editorship at Women's Health, launched from scratch by her team of three in 2011. It turned out to be the most successful women's magazine launch this century.
Her achievement at Women's Health was recognised by the British Society of Magazine Editors (BSME) when she was named New Editor of the Year in 2014. She won Editor of the Year at the prestigious BSME Awards in 2012, 2018 and 2020, and the Professional Publishers Association named her Editor of the Year in both 2018 and 2019. In 2018, Farrah was one of the 36 BAME leaders on the Guardian's list of the 1,000 most powerful people in Britain and was included in the Evening Standard's Progress 1000 list of London's most influential people of 2019.
Farrah has written a book called The Discomfort Zone, which looks at how challenge and hardship can unlock human potential. Subtitled How to Get What You Want by Living Fearlessly, the book was originally published in 2018 and was reissued in paperback in 2021. It was one of the many reasons (including 'challenging social conversations and conventions through your work') listed by the King's Alumni Awards Selection Committee when announcing Farrah as King's Alumna of the Year 2019 in the King's Distinguished Alumni Awards. She was elected as a fellow of King's in 2022.