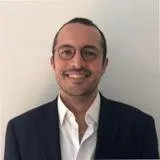 Fernando Silva Parás
Public Policy and Management MSc, 2019
Biography
Hi! My name is Fernando Silva Parás. I was born and raised in Mexico City. I worked as impact investor in San Francisco and my current role is as Investment Associate at PG Impact Investments which is a Partners Group related impact investing fund with offices in NY, London, Singapore and Zug (Switzerland).
I hold a BA in Economics from the Instituto Tecnológico Autónomo de México and recently completed an MSc in Public Policy and Management at King's College London as part of the class of 2019.
Between my undergraduate and Master's degrees I spent several years in the financial sector. I was part of the HSBC Latin America Investment Banking team in New York City and Mexico City where I executed M&A and equity capital markets transactions. It was here that I realised the potential of utilizing the financial markets to contribute to the betterment of society.
However, I also acknowledged that If I was to make a contribution, I would have to develop my theoretical and analytical skills to understand and provide solutions to the specific hinderances to sustainable and equitable economic growth in my own country and the Latin American region. This inspired me to apply to the MSc in Public Policy and Management at King's Business School.
The course gave me a thorough understanding of modern political and economic issues from a public policy perspective. I learnt how policies are created, executed and evaluated internationally. Crucially, studying with such a diverse cohort of students from across the globe enriched my experience, and exposed me to a variety of real-life case studies.
Coming from a financial sector background, I also enjoyed King's Business School's focus on the impact that the private sector can have, as well as the public sector. It's here that I came to appreciate that the role of the state is ever-present across the world, whether it's via regulations which apply to all stakeholders in society, or through the protection of rights and the encouragement of obligations for individuals.
The faculty was receptive to new ideas, embracing the outlook of the King's international community. Critical thinking and mindfulness were always supported and developed. We were encouraged to work in teams, for example when developing a Business Plan for a Social Enterprise. We also participated in extracurricular activities, such as student-led policy discussion groups based on the real-world experiences of students, many of whom had experience as civil servants.
I would strongly recommend this programme to people considering a public policy degree since it is well balanced between applied and academic knowledge. You are able to study Development, Business and Management related subjects (and not only with regards to public policy) and the cohort is diverse, whether in terms of gender, age, nationality or professional experience.
Impact investing
Thanks to the programme, I am ready to pursue my goal of using both finance and public policy to improve the lives of underserved communities in Mexico and elsewhere.
I am able to combine my financial background with the academic and practical knowledge I gained through the King's Business School Public Policy and Management programme to link investors' funds with companies who balance economic returns with a positive social and environmental impact.
I believe social and environmental change is possible if we can align the incentives of different stakeholders in society. In fact, there has never been a better time to do this. The pandemic, the economic crisis and climate change are all prompting people to reconsider the roles they play in their communities. Investors are becoming more conscious of how they can invest in a way which addresses growing socio-economic inequalities. This is a unique opportunity for social enterprises and impact investing firms to make a difference to the livelihoods of the most vulnerable.