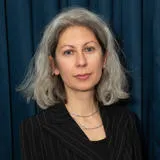 Francesca Grandi PhD
Visiting Senior Research Fellow
Contact details
Biography
Francesca's work focuses on understanding and solving conflicts, and protecting and assisting victims of armed violence, including those forcibly displaced. She has extensive field and policy-making experience in humanitarian relief, conflict prevention, peace diplomacy, peacebuilding and peacekeeping.
Currently, she is the Research and Methodology Advisor at the Center for Operational Research and Experience (CORE) of the International Committee of the Red Cross (ICRC) in Geneva, where she supports the Organisation's operations and diplomatic and policy initiatives through data analysis, research, and strategic planning advise.
Prior to joining the ICRC, Francesca worked in think tanks in London (International Institute for Strategic Studies and Overseas Development Institute), at the United Nations and the European Union in Brussels, Chile, East Timor, Geneva, Mozambique, Nepal, New York, and in refugee camps in Lebanon and the former Yugoslavia.
Francesca regularly volunteers with homeless and refugees, including by teaching trauma informed yoga.
Qualifications
BA Philosophy, University of Milan, Italy and Bremen University, Germany
MA International Relations, SAIS Johns Hopkins University, Washington DC, USA
PhD Political Science, Yale University, New Haven, USA
Research Interests
Post-conflict violence
Climate-conflict nexus
Humanitarian operations
Forced displacement
Research ethics
Francesca's research spans across the conflict cycle, including the causes and the consequences of armed violence. Recently, she is focusing on the effectiveness of interventions and programming to assist people affected by armed conflict and how research can bolster humanitarian operations.
Publications
Books
(2019, 2020 eds.) "Armed Conflict Survey," International Institute for Strategic Studies, London
Research articles
(2019) "The State of Volunteering Infrastructure Globally," Background Paper for the 2018 State of the World's Volunteerism Report, UNV, Bonn (also published in Voluntaris, 7:1, 22-43)
(2013) "Why do the victors kill the vanquished? Explaining the variation of extra-judicial executions in post-WWII Italy," Journal of Peace Research, 50: 5, 577–593
(2013) "New incentives and old organizations: The production of violence after war," Peace Economics, Peace Science, and Public Policy, 19: 3, 309-320
Policy Papers
(2018) "Dignity and displaced Syrians in Lebanon: 'There is no karama here'," Humanitarian Policy Group Working Paper, ODI, London
(2018) "Leave no one behind index," Growth, Poverty and Inequality Programme, Briefing Paper, ODI
Media articles
(2018) "Why Cameroon's internal conflict now threatens regional security" World Economic Forum, International Security, Fragility, Violence and Conflict, November
Teaching
"Risk in International Development" Adjunct Professor, IE School of Global and Public Affairs, Madrid, Spain
"Forced Displacement" Lecturer, Olympia Summer Academy, Nafplion, Greece