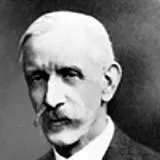 Sir Frederick Gowland Hopkins (1861 – 1947)
Biography
Nobel-winner who discovered vitamins


Frederick Gowland Hopkins entered Guy's Hospital as a medical student at the mature age of 28 and was immediately given the William Gull Studentship. He then taught physiology and toxicology at Guy's Hospital for four years. However, he had a background in chemistry, and became instrumental in establishing biochemistry as a separate discipline, concerned with the 'active chemistry of the life process'.

Hopkins carried out a series of experiments which led to the discovery of trace elements in fresh foods essential to animal health. Hopkins called these 'accessory substances' – they are now known as vitamins. He was knighted in 1925, and in 1929 he was awarded the Nobel Prize for Physiology or Medicine (jointly with Christiaan Eijkman) for the discovery of vitamins.

Among his other outstanding contributions to science were the discovery of a method for isolating tryptophan and for identifying its structure; the identification of  substance he named glutathione which is widely distributed in the cells of plants and animals that are rapidly multiplying, and the discovery of xanthine oxidase.