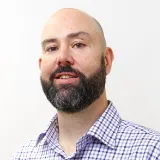 Professor Gabriel Reedy FAcadMEd PFHEA
Professor of Clinical Education
Contact details
Biography
Prof Gabriel Reedy is programme director for the Masters in Clinical Education programme and has been on faculty at King's since 2009. He holds a PhD in Cognitive and Educational Psychology and a Master of Education in Curriculum and Instruction from the University of Washington, in Seattle (USA).
His research focuses on how healthcare professionals, scientists, clinicians, and emergency responders learn, and in turn, how to support and train them more effectively. In particular, he studies how simulated environments can be used to help individuals learn and develop, as well as how simulations can help train teams, departments, organisations, and inter-agency systems to be prepared to respond to unusual events.
He serves on the Research Committee of the international Society for Simulation in Healthcare (SSH), and the Scientific Committee of the Society in Europe for Simulation as Applied to Medicine (SESAM). He is an Chartered Psychologist and Associate Fellow of the British Psychological Association and a Fellow of the Academy of the Society for Simulation in Healthcare. He is the Editor-in-Chief of Advances in Simulation, the academic journal of SESAM.
He is an Academic Chair for Circle U., an alliance of research-intensive European universities dedicated to imagining and creating the future of a sustainable higher education in Europe for the benefit of students, staff, and society
His research has been funded by the National Science Foundation (USA), the National Institutes for Health Research (UK), NHS Health Education England, NHS England and NHS Improvement. He founded the Simulation, Teamwork, and Education in the Health Sciences research group.
Research
Simulation, Teamwork, and Education in the Health Sciences
Research
Simulation, Teamwork, and Education in the Health Sciences