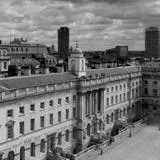 Professor Genevra Richardson
Emeritus Professor
Biography
Genevra Richardson is Emeritus Professor at King's. She came to King's in 2005 and taught for many years at Queen Mary, University of London, where she was Dean of the Law Faculty from 1996 to 1999. Prior to this she was at the University of East Anglia and the Centre for Socio-Legal Studies in Oxford. Genevra Richardson started out as a public lawyer but has become increasingly interested in law and medicine and, in particular, law and psychiatry. She was book review editor of Public Law for many years and is on the editorial board of the Journal of Mental Health Law and the Journal of Forensic Psychiatry.
Research
Genevra Richardson's research and publications have covered administrative law and administrative justice, prison law and law and psychiatry. While most of her research has been library based she has retained an interest in empirical socio-legal research and continues to be involved in empirical projects. She is frequently invited to present her work overseas and to contribute to international collections and journals. 
Read full details of Professor Richardson's research on her Research Portal profile.