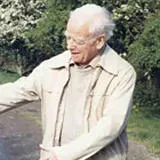 Professor George Brownlee (1911 – 2010)
Biography
The first Professor of Pharmacology at King's


Professor George Brownlee arrived at King's College London from the Wellcome Research Laboratories in 1950. During his time at Wellcome he developed an expertise in drug toxicity, antimicrobials, and chemotherapy.

He began his work at King's as a Reader and Head of the sub-department Pharmacology, which had just been established, where he would remain until his retirement in 1978. He continued researching his areas of interest, publishing work on antimicrobials and tuberculosis chemotherapy. Alongside his research, Professor Brownlee was credited with building a 'fine Department that touched many lives', developing the first iteration of the King's BSc Pharmacology course.

He was promoted to Professor in 1958, distinguishing himself as a senior academic even without a degree in Medicine – a rarity at the time. In 1953, Professor Brownlee was offered an associate editor position for The Journal of Pharmacy & Pharmacology, quickly becoming its editor between 1955 and 1972. Outside of King's, he enjoyed collecting antiques and spending time with his wife and three sons.