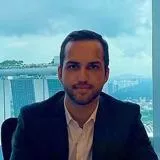 George Kiroyants
IBM, Singapore
Biography
George Kiroyants, International Management student BSc, has been working at IBM Asia Pacific in Singapore as part of his placement year. Here's what he has to say about what he learned there:
I was a Business intern assisting Harriet Green, then CEO of IBM's Asia Pacific headquarters, and her Chief of Staff in Singapore. Harriet's team oversaw the operations of IBM in 17 countries across Asia Pacific and was responsible for $17 billion revenue in 2019.
IBM's mission is to make the world a better place by using cutting edge technology and the world's brightest minds. My placement was a once in a lifetime opportunity to be part of that mission, working on a variety of incredible projects using artificial intelligence, hybrid cloud, block chain contracts and quantum computing.
Some highlights included: working on a smart city integration; project managing a joint project between IBM Singapore and IBM Australia, and researching sustainability for a major Singapore company. I even got the chance to speak to Nikolay Storonsky, the Founder and CEO of Revolut at the Singapore FinTech event I was invited to. I told him how IBM could transform the efficiency of his bank by using a hybrid cloud model!
Supportive and inspiring
The environment was supportive and inspiring. My supervisor was really understanding and helped me with any challenges. Many of the senior executives were kind and understanding which made me feel welcome.
It was exciting to be at one of the world's most technologically advanced companies in one of the world's most technologically advanced cities, and thanks
to my placement I've greatly improved my tech skills and knowledge. I also now feel more independent and able to manage multiple projects to deadlines.
My advice to people who are thinking about choosing a placement is to consider something out of your comfort zone. That might be far away from home or in a sector where you know you need to expand your knowledge. Working at an international company overseas is a great learning experience. It's a great way to meet new people, build your network to boost your future employment prospects and to learn and experience how business is done internationally.
How would I sum up the experience in 3 words? Mind-blowing, revolutionary and once-in-a-lifetime!