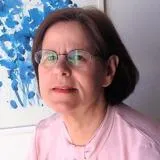 Georgia Farinou-Malamatari
Visiting Professor, Centre for Hellenic Studies
Contact details
Biography
Prof. Farinou is a postgraduate alumna of King's Department of Byzantine and Modern Greek Studies. She taught for many years in the Department of Medieval and Modern Greek Studies at the Aristotle University of Thessaloniki. She has also been serving as President of the Society for Papadiamantis' Studies (www.papadiamantis.net). Her research interests and publications cover a wide range of topics in Modern Greek and Comparative Literature (19th and 20th century fiction, narratology, modern and postmodern life-writing, translation studies). For more details see https://www.lit.auth.gr/en/node/337
From 1 January 2019 and for the next three years, Professor Farinou will offer occasional public lectures and seminar papers at King's while visiting London in a private capacity. She is also serving as a member of the CHS Academic Committee organizing an international conference to be held at King's to mark the 200th anniversary of the Greek Revolution, planned for 10-11 December 2021.
Recent Research Outputs
'Theotokas and Christianity', in But what do our souls seek voyaging? Greek Writers between the Wars: Their Quests and their Anxieties. A volume in Honour of Peter Mackridge. Athens: Nefeli, 2018, pp. 234-46 (in Greek).
'Bakhtin's Rabelais, Carnival and the Novel' (review article), The Books Journal, 82 (Nov. 2017), pp. 74-78 (in Greek).
'Vassilis Vassilikos' Z: Fifty years later'. Appendix to the 50th anniversary edition, Athens: Gutenberg-Aldina, 2016, pp. 525-73 (in Greek).
'George Eliot in Greece', in Elinor Shaffer and Catherine Brown (eds), The Reception of George Eliot in Europe. London: Bloomsbury, 2016, pp. 362-74, 432-35.
The Portion of Writing. Studies on Papadiamantis and His Critics. Athens: Gutenberg, 2014 (in Greek).
'Biography and the Novel in 20th-Century Greek Literature'. Phrasis: Studies in Language and Literature 51 (2010), pp. 149-61.