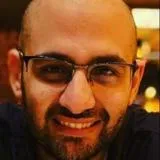 Mr Ghalib Abulfaraj
PhD Student
Contact details
Biography
Previous work experience/study/qualifications:
Licensed Adult Psychotherapist working in Jeddah, Saudi Arabia (2016-2022).
Adjunct Lecturer, Psychology department, Effat University (2020).
MS in Applied Counseling Psychology from the University of Baltimore (2016).
BS in Psychology from West Virginia University (2010).
Abulfaraj, G., Allami, H., Shafqat, S., Nasef, Ashy, M., (2017). Mental Health in Saudi Arabia. Poster presented at the Annual Conference of Association of Psychological Sciences, Boston, MA.