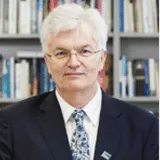 Glyn Davis
Visiting Professor
Biography
Glyn Davis is Secretary of the Department of the Prime Minister and Cabinet, and head of the Australian Public Service.
Prior to commencing this role in June 2022, Professor Davis was Distinguished Professor in Political Science at the Australian National University's Crawford School of Public Policy, and Visiting Professor at the Blavatnik School of Government at Oxford.
Davis is a public policy scholar, and author of a range of books and articles on Australian policy making. He served, from 2005 to 2018, as the Vice-Chancellor of the University of Melbourne, and as a member of the Independent Review of the Australian Public Service, which reported in 2019.
Davis has held various international posts, including as chair of Universitas 21, as a member of the Association of Pacific Rim Universities and as a director of the Menzies Centre for Australian Studies at King's College London. Davis completed his political science doctorate at the Australian National University, and held post-doctoral fellowships as a Harkness Fellow at the University of California Berkeley and Harvard University. He holds honorary doctorates from Griffith University and the University of New South Wales and in 2002 became a Companion of the Order of Australia.