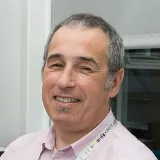 Professor Graham Davies
Professor of Clinical Pharmacy & Therapeutics
Contact details
Biography
Graham Davies is Professor of Clinical Pharmacy & Therapeutics at the Institute of Pharmaceutical Science, King's College London. He established and led the Clinical Practice and Medicines Use Group between 2007 and 2015. He has published over 150 peer reviewed articles and conference abstracts during his career. His research interests include identifying and managing medicines related harm in the elderly which has attracted grants from Guy's and St Thomas Charity as well as NIHR to support the programme. In addition, he is co-director of the Centre for Adherence Research and Education (CARE), a King's Health Partners initiative to tackle the problem of medicines non-adherence, by providing education and tools to support adherence identification.
Over the years he has contributed to the strategic development of pharmacy education, holding key positions as the MPharm Course Director for King's College, the Pharmacy Education Lead for the Pharmaceutical Science Clinical Academic Group (part of King's Health Partners) and Pharmacy work stream lead for the South London Health & Innovation Education Cluster. He was also instrumental in establishing a novel postgraduate workplace Diploma for hospital pharmacists, as part of the Joint Programmes Board initiative within the south east of England. Professor Davies spent over 10 years working as a clinical pharmacist, including periods as a specialist (paediatrics, general medicine and anticoagulation) as well as managing a range of clinical, technical and ancillary staff as the Deputy Director of Pharmacy at a London Hospital. In addition, he spent 15 years as an advisor to the London and South East Regional Health Authority, contributing to the strategy development of Clinical Pharmacy Services across the managed sector.
He was made a Fellow of the Royal Pharmaceutical Society (RPS) in 2009, a Faculty Fellow of the RPS in 2013, and an Honorary Fellow of the Hong Kong Academy of Pharmacy in 2011.