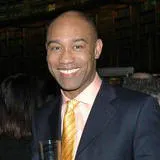 Gus Casely-Hayford
Cultural Fellow
Biography
Gus Casely-Hayford is a Cultural Fellow within King's College London.  
Gus is Director of the Smithsonian National Museum of African Art in Washington DC (from February 2018). He trained as an art historian and writes and broadcasts widely on African culture. 
Formerly, Gus was the Executive Director of Arts Strategy at Arts Council England, and Director of the Institute of International Visual Art. Gus has offered leadership to some of the most high profile arts organisations in Britain. He has advised the United Nations and the Canadian, Dutch and Norwegian Arts Councils and the Tate Gallery. He initiated and became the Director of Africa 05, the largest African arts season ever hosted in Britain, when over 150 venues collaborated to host more than 1000 events. He is currently a Research Associate at the School of African Studies and a Trustee of the National Portrait Gallery. Gus has worked with King's College London since the establishment of the Cultural Institute in 2012.