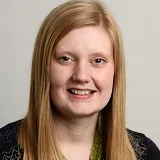 Hâf Rees
Project and Policy Officer (London) | on secondment until January 2023
Biography
On secondment to the Student Transition & Outcomes team, Students & Education, Directorate until January 2023.
As Project and Policy Officer (London), Hâf is responsible for coordinating King's network of faculty-based London Champions and working with the London team to support faculties and directorates across King's to deliver the university's London strategy.
Hâf joined King's from the University of Leicester where she completed Ambitious Futures, the Graduate Programme for University Leadership. During the programme she completed project placements in the Career Development Service and the Research and Enterprise Division at the University of Leicester and was seconded to De Montfort University's Faculty Executive office. Hâf started her career in higher education at Leicester Students' Union and the University of Birmingham Guild of Students. She holds a BA (Hons) in American Studies with a year abroad from the University of Leicester.