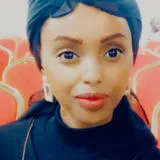 Hamdi Issa
Director of Community Health Services, Ministry of Health Development in Somaliland
Biography
Hamdi Issa is a Director of Community Health Services at the Ministry of Health Development in Somaliland where she provides technical and programmatic leadership on community health programmes that support the prevention of gender based violence and ending preventable maternal, new-born, and child deaths. She has previous experience in health policy, implicit bias in healthcare and learning spaces.
Hamdi has an academic interest in models of learning between high income and low and middle-income countries and identifying spaces that promote mutual interest and benefits to both partners, in the context of reverse innovation. She has worked both in the UK and Somaliland to improve the effectiveness of global health partnerships for optimal health outcomes.
She holds a PhD in Global Health and a Masters in Public Health both from Imperial College London, and a BSc (Hons) Biomedical Science from University College London.