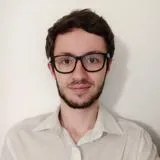 Hamilton Morrin
Academic Clinical Fellow
Contact details
Biography
Hamilton received a Psych Star fellowship in 2019 from the Royal College of Psychiatrists to further explore his clinical and academic interest in Neuropsychiatry whilst studying Medicine at King's College London. He holds an intercalated BSc in Medical Genetics.
Hamilton joined South London and Maudsley NHS Foundation Trust as a core trainee in psychiatry in 2021. He is also an academic clinical fellow in the Neuropsychiatry Research and Education Group at the Institute of Psychiatry, Psychology and Neuroscience.
Research Interests
Neuropsychiatry
Autoimmune encephalitis
Functional neurological disorder
Lewy body dementia
Virtual reality
Brain-computer interface technology
Research Groups
Neuropsychiatry Research & Education Group (NREG)
Expertise and Public Engagement
Core lead and trustee for UK charity Gaming the Mind.
Maudsley Training Programme, Junior Doctor Committee President.
Developer of neuropsych.net
Key Publications
'Systematic review of the efficacy of nonpharmacological interventions in people with Lewy body dementia.' Morrin H, Fang T, Servant D, Aarsland D, Rajkumar AP. Int Psychogeriatr. 2018 Mar;30(3):395-407.
'Emerging Knowledge of the Neurobiology of COVID-19'. Butler M, Cross B, Hafeez D, Lim MF, Morrin H, Rengasamy ER, Pollak T, Nicholson T. Psychiatr Clin North Am. 2022 Mar;45(1):29-43.
'Neurology and neuropsychiatry of COVID-19: a systematic review and meta-analysis of the early literature reveals frequent CNS manifestations and key emerging narratives'. Rogers JP, Watson CJ, Badenoch J, Cross B, Butler M, Song J, Hafeez D, Morrin H, Rengasamy ER, Thomas L, Ralovska S, Smakowski A, Sundaram RD, Hunt CK, Lim MF, Aniwattanapong D, Singh V, Hussain Z, Chakraborty S, Burchill E, Jansen K, Holling H, Walton D, Pollak TA, Ellul M, Koychev I, Solomon T, Michael BD, Nicholson TR, Rooney AG. J Neurol Neurosurg Psychiatry. 2021 Sep;92(9):932-941.
'Neuroanatomy of Patients with Deficit Schizophrenia: An Exploratory Quantitative Meta-Analysis of Structural Neuroimaging Studies.' Chee TT, Chua L, Morrin H, Lim MF, Fam J, Ho R. Int J Environ Res Public Health. 2020 Aug 27;17(17):6227.
'Systematic review of genetic association studies in people with Lewy body dementia.' Sanghvi H, Singh R, Morrin H, Rajkumar AP. Int J Geriatr Psychiatry. 2020 May;35(5):436-448.
'Postmortem Cortical Transcriptomics of Lewy Body Dementia Reveal Mitochondrial Dysfunction and Lack of Neuroinflammation.' Rajkumar AP, Bidkhori G, Shoaie S, Mardinoglu A, Bell E, Morrin H, Hye A, Buck D, Williams G, Ballard C, Francis P, Aarsland D. Am J Geriatr Psychiatry. 2020 Jan;28(1):75-86.
'The Association Between Benign Fasciculations and Health Anxiety: A Report of Two Cases and a Systematic Review of the Literature.' Blackman G, Cherfi Y, Morrin H, Ellis CM, Bashford J, Ruths F, David A. Psychosomatics. 2019 Sep-Oct;60(5):499-507.