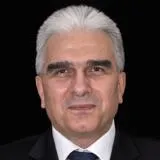 Dr Haralabos Eleftheriadis
Consultant Ophthalmologist
Contact details
Biography
Mr Haralabos Eleftheriadis is a Consultant Ophthalmologist with specialist interest in Medical Retinal diseases and Cataract Surgery. He graduated from the Medical School of the Aristotelian University of Thessaloniki in Greece. He completed his ophthalmology training in Greece and the United Kingdom. Haralabos undertook fellowships in Anterior Segment and Cataract Surgery in Brighton, Refractive Surgery in Valencia Spain and Medical Retina in Bristol.
His specialist interests are medical retinal diseases including diabetic retinopathy, retinal vein occlusion, age-related macular degeneration and sickle cell retinopathy. Moreover he is a very experienced high volume cataract surgeon. Haralabos is passionate about teaching cataract surgery skills to ophthalmology trainees and fellows.
He has been involved in clinical research and has presented in several national and international conferences and published several papers in peer reviewed journals.