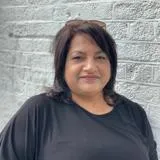 Ms Haseem Usman RMN, RGN, MSc
Clinical Teacher
Contact details
Biography
Haseem Usman is a Clinical Teacher and Link Lecturer for Central North West London Trust (CNWL)
Haseem is a dual qualified nurse; Registered General Nurse (RGN) & Registered Mental Nurse (RMN). She has also attained an MSc in Executive Health Management.
Recently retired from the NHS after almost 40 years' service, in a position of Matron in an acute mental health service in Central London as an addition to this role she was also contributing her time as a Lecturer Practitioner at Kings College.
Haseem contributes her vast skills and experience to the development and delivery of blended learning in advanced skills for acute and intensive psychiatric care for student nurses.
She has a special interest in the development of individuals through coaching and supervision as well as developing 'Learning Organisations' and is committed to the training and development of staff to produce sustainable and prolonged improvements in 'current' service delivery.