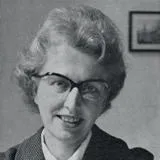 Helen Hudson
Tutor for Women Students
Biography
Dr Helen Hudson FKC (1919–2006) helped promote education for women and support students at King's for over 20 years.
Helen acquired her first post at King's – Tutor for Women Students – in 1959 and used her position to fight for her female students' welfare. She was often the only woman sat on boards and committees, at a time when Professor Jean Hanson, Biophysics, was the only female professor at King's.
She helped female students secure safe accommodation during their studies after the women's hall in Kensington was sold off. And Helen successfully argued for the male students' Halliday Hall to become a mixed hall, despite being hissed at by the men when first joining them to dine there.
In her role on the admissions board, Helen worked to increase the number of King's College School of Medicine female admissions, which originally had a quota of just 10. During her time there, she interviewed every female student applying to King's, making a point to judge them on their merits rather than gender.
Helen dedicated herself to King's for over 20 years and was particularly passionate about the Chapel and its music. She became Dean of Students in 1973, a position that she held until 1982. She left a legacy that funds two King's Choral and Organ scholarships for women each year.
Did you know?  Helen is remembered with a King's Award named after her, to celebrate the contribution, commitment and support of the King's alumni community.