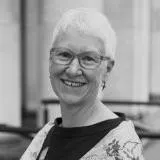 Dr Helen Idle
Research Associate
Contact details
Biography
Helen Idle was awarded a Doctorate in Australian Studies from the University of London in 2017. She completed an MA in Visual Culture with the Centre for Arts Research and Technology (CARTE), University of Westminster, in 2005.
Before embarking on post-graduate research Helen worked for design and branding agencies in the UK. During her candidacy Helen worked part-time for Iniva – the Institute of International Visual Arts in London.
Her field of enquiry considers visual culture, art and artefacts as agents of knowledge production in museums, galleries and libraries. She uses creative narrative and self-reflexive methodologies to think about decolonisation and practices in these domains. Helen contributes to the Menzies Australia Institute mission to acknowledge and approach Indigenous knowledges and methodologies in her scholarship.
As an independent researcher and creative project curator Helen produced Entwined: knowledge and power in the age of Captain Cook in 2018. The project takes theory into practice through a partnership with The Portico Library in Manchester to decolonise the collection.
Helen is foundation member of the MAI Creative Network, a member of the Editorial Advisory Board for dual language Australian Studies Journal (Zeitschrift für Australienstudien) and on an Advisory Panel for the Bildmuseet, Umeå University, Sweden.
Research
Approaching Indigenous Knowledges
Visual Cultural Studies
Museums and Exhibition
Contemporary Art
Australian Studies
Further details
For more information, see Helen's research profile