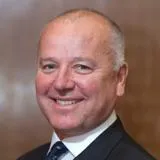 Ian Abbs
Chief Executive and Chief Medical Director of Guy's and St Thomas' NHS Foundation Trust
King's Business School Advisory Council Member.
Biography
Dr Ian Abbs became the Chief Executive of Guy's and St Thomas' Hospital in July 2019 and Chief Medical Officer in January 2017. He holds the degrees of BSc in Immunology and MB BS in Medicine, is a Fellow of the Royal College of Physicians of London and holds an MBA from the University of Cambridge. Ian has had a career in renal medicine at Guy's Hospital, both as a postgraduate and as a consultant. In recognition of his commitment to research and education, he holds a Senior Lecturer position in the Faculty of Medicine, Kings College London.
Ian is Chair of the National Institutes of Health Research Clinical Research Network and is the former Chair of the Association of UK University Hospitals Medical Directors Board. He is Chair of the London Genomics Medicine Consortium and of Digital Health.London, the consortium of London academic organisations accountable for the development and delivery of digital health and technology. Most recently, Ian became the President of the European Union Healthcare Alliance.