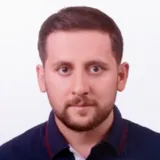 Mr Idris Cinemre
PhD student
Contact details
Biography
Idris was awarded a postgraduate scholarship by the Republic of Turkey's Ministry of National Education and completed his MSc in Mobile & Personal Communications with distinction at King's in 2013. He worked as a research assistant in Turkey between 2014-2021, and also enrolled at Karadeniz Technical University in 2014 to pursue a PhD in Telecommunications with a focus on Visible Light Communication. In 2019, he has received the same scholarship again, and joined King's in October 2020 as a PhD student in Telecommunication, concentrating on the functional split in 5G.
Thesis title
Resource Coordination in decomposed RAN architecture by using distributed AI
Research interests
Functional Splits in RAN
Federated Learning
Visible Light Communication
PhD supervision
Principal supervisor: Dr Toktam Mahmoodi.
Further details
See Idris's research profile