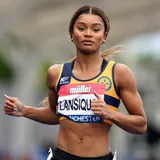 Imani-Lara Lansiquot
Olympic sprinter
Biography
Imani-Lara Lansiquot (Psychology, 2020) is a Team GB sprinter, a European champion and the fourth-fastest British woman in history. She took bronze in the Tokyo 2020 Olympics women's 4 x 100 metre relay in the summer of 2021.
Born in Peckham, London, in 1997, Imani-Lara represented Great Britain at the 2020 Games alongside Britain's fastest woman and King's History graduate Dina Asher-Smith, and King's Geography graduate Laviai Nielsen; all three were on the King's Sport Performance Programme. The programme provides elite student-athletes with a support network to help them perform to the highest level possible in their dual careers. Imani-Lara has said that the programme is one of the main reasons she chose to study at the university.
Imani-Lara first ran inside 12 seconds for the 100 metres at the age of 15. She started competing on the world stage, taking her first international gold medal at age 17 in the 4 x 100 metres relay at the 2015 European U20 Championships; then, aged 20, at the 2018 European Championships. In 2020, she became British champion of the 100 metres, winning the event at the British Athletics Championships with a time of 11.26 seconds.
Yet, upon travelling to her first Olympics, the 2020 Tokyo Games, Imani-Lara might not have run at all, being one of six athletes who had to self-isolate in the Japanese capital after finding themselves in close contact with someone who had tested positive for COVID-19 on the plane over. Ever resourceful, however, she spent her spare time writing a play that she had been commissioned to contribute to a theatre festival in Peckham and Camberwell, featuring herself as a childhood dreamer and athlete. The 10-minute immersive piece, Armour of Gaza, was performed to a sell-out audience in September 2021.
Imani-Lara took her disadvantaged upbringing on a council estate as a challenge and used it as the motivation to strive to do well in both her sports career and studies. She wants to use her platform as inspiration to other young people from similar underprivileged backgrounds, as well as to rewrite some of the harmful stereotypes around sport while improving experiences for future black athletes.