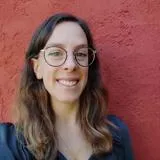 Dr Irene Faiman BSc, MRes, PhD
Postdoctoral Research Associate
Contact details
Biography
Irene Faiman is a Postdoctoral Research Associate in Neuropsychiatry, with an interest in Epilepsy and Functional/Dissociative Seizures (FDS). Her research implements EEG and behavioural measures to investigate the neurophysiological, psychiatric, and neuropsychological characteristics of seizure disorders. Areas of ongoing work include using resting-state EEG and machine learning to improve the diagnosis of epilepsy and FDS, building individualised models of mood states in epilepsy, and studying the issue of suicidality in epilepsy and FDS.
She holds a BSc in Psychology (University of Trieste, IT), a MRes in Cognitive and Clinical Neuroscience (Maastricht University, NL), and a PhD in Clinical Neuroscience (King's College London, UK). She has worked as an Assistant Psychologist in Neuropsychology and Neurorehabilitation services within the NHS, with people with Traumatic Brain Injury or epilepsy.
Research Interests
Epilepsy 
Functional/Dissociative Seizures  
EEG  
Biomarker research 
Machine Learning 
Research Groups
Neuropsychiatry Research & Education Group  
Teaching
Irene Faiman works as a Tutor for the MSc in Affective Disorders and is a personal tutor and dissertation co-supervisor for the MSc in Clinical Neuropsychiatry. She previously worked as a Graduate Teaching Assistant at King's College London for the BSc in Psychology and the BSc in Neuroscience.