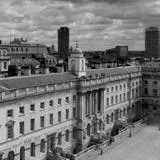 Dr Isidora Maletic
Reader in Law (Education)
Contact details
Biography
Dr Isidora Maletić is a Reader in Law (Education) at King's College London. Dr Maletić has been recognised as a Senior Fellow of the Higher Education Academy pursuant to the UK Professional Standards Framework. She is a Member of the Advisory Board and Fellow of the Centre of European Law at King's College London.
Dr Maletić has extensive teaching and professional training experience (including the development of programmes and virtual educational delivery). She also has extensive practitioner experience and has been consulted by leading international law firms on a variety of regulatory matters.
Her research focuses on a broad range of areas, including trade regulation, competition law, Brexit-related regulation, financial services regulation, environmental law ('green' regulation and sustainability), consumer protection and technology regulation (digital / artificial intelligence), as well as educational issues (especially in relation to assessments, feedback practices and educational quality assurance aspects).
Dr Maletić has published widely, with various articles in eminent international journals and editorial contributions. She has been invited to speak globally at expert seminars and high-profile conferences and has held visiting posts at several higher education institutions. She has also been consulted by leading journals regarding feedback in relation to proposed publications. She is the author of the books "The Law and Policy of Harmonisation in Europe's Internal Market" (Edward Elgar Publishing, 2013) and "Trade Regulation and Policy in the EU Internal Market: an Assessment through the Services Directive" (Edward Elgar Publishing, 2022).
Dr Maletić holds a BA (Hons) in Law, Queens' College, University of Cambridge; an LLM, King's College London; an MA, Queens' College, University of Cambridge; a Doctorate, King's College London; and has completed the Legal Practice Course at The College of Law. She is a Solicitor of the Senior Courts of England and Wales (currently non-practising). Dr Maletić is fluent in several languages.