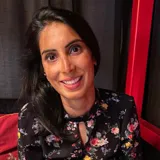 Jalpa Patel
Specialist Registrar in Special Care Dentistry
Visiting Research Associate
Biography
Jalpa is a Specialist Registrar in Special Care Dentistry at King's College Hospital. Since qualifying in 2014 she has had experience in both primary and secondary care dental services.
Her experience in the community dental services and secondary care special care services drove her enthusiasm for Special Care Dentistry. Jalpa's previous role as a leadership fellow for Health Education England, gave her an insight into managerial aspects of healthcare and Dental Public Health.
Jalpa was involved with workstreams which involved improving awareness and education on antimicrobial resistance and creating shared educational opportunities between pharmacy and dental professionals, and has also worked with Public Health England on e-Bug and Delivering Better Oral Health.