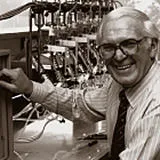 Professor Sir James Black (1924 - 2010)
Biography
Nobel-winning pharmacologist who developed beta blockers and anti-ulcer drugs


'In intellectual terms the last five years at King's have been the most productive in my life. Surrounded by talented researchers and PhD students, I feel I have found my niche at last.' 

(Sir James Black, from the speech given on the acceptance of his Nobel Prize)

Sir James Black was appointed as professor of pharmacology at King's in 1984 and retained connections with the college for the rest of his life. He was awarded the Nobel Prize in Physiology or Medicine in 1988 for the development of two major families of drugs: beta blockers for the treatment of coronary heart disease, high blood pressure and heart failure, and anti-ulcer histamine receptor blocking drugs.

The great innovation in James Black's approach was that he used his understanding of how cells communicate with one another to work out how to design new drugs.

The James Black Centre on King's Denmark Hill Campus, which opened in 2007, houses groups working on molecular haematology, neurobiology, translational stem research and transplantation. It provides a highly multi-disciplinary environment for 180 scientists with excellent core facilities including genomics, proteomics, mulitphoton confocal microscopy and a 7 tesla MRI scanner.