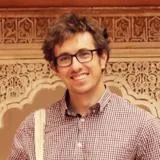 James Bulman
BA War Studies
Biography
What I valued most about my undergraduate degree in War Studies was the breadth of the course, and how I was able to follow my interests throughout the degree. From studying the causes of war, to introductions to IR theory, and contemporary Middle Eastern history, so much of what I learnt in my degree has been of great use later on in my career.
My extracurricular commitments also helped me discover and develop my interests in politics and advocacy. In my second year I helped to found Kings' radio station, joining it in its second year as its first news editor.
After graduating in 2011 my initial career was rather eclectic. I worked as a producer at a start-up cricket radio station (there was no salary, I was paid in free sandwiches), I volunteered as an archivist at the Frontline Club, digitising decades of landmark war reporting held by the club, held down several bar jobs to pay the rent and interned at a few charities to try and get my foot on the career ladder.
After a short stint in public affairs I eventually secured my first permanent position, working as a researcher in the UK Parliament. Initially part time in the House of Lords, after a year I moved to work full time in the Commons as an assistant to an MP on the Defence Select Committee. After around three years I moved to Oxfam's UK advocacy and campaigns team, and two years after that in 2017, moved to my current position in the External Relations team at the United Nations Refugee Agency (as it happens, based just behind the Maughan Library off Chancery Lane!)