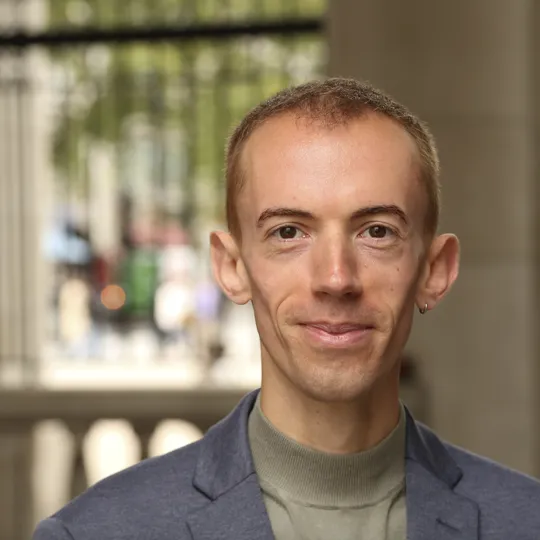 Dr James Metcalf
Lecturer in Eighteenth-Century Literature and Culture
Contact details
Biography
I studied at the University of York and worked as a journalist before taking my AHRC-funded PhD at King's College London, where I was appointed Lecturer in Eighteenth-Century Literature and Culture in 2021. My monograph Churchyard Poetics: Landscape, Labour, and the Legacy of Genre is under review with Oxford University Press.
Research interests and PhD supervision
Eighteenth-century and Romantic-period poetry – especially women poets, the mid-eighteenth century, and labouring-class poetry
Poetic form and genre; queer poetics; the body and materiality in the history and theory of poetry
Cultural and intellectual history of the long eighteenth century – especially gender and sexuality, natural history, and material culture
Queer, feminist, and critical race perspectives on the literature and culture of the long eighteenth century
Environmental humanities: ecocriticism, new materialisms, posthumanism, and queer and feminist ecologies
My first monograph, Churchyard Poetics: Landscape, Labour, and the Legacy of Genre, recovers the churchyard as the troubled centre of eighteenth-century poetry. Revising the limited category of 'graveyard poetry', I trace the churchyard's persistent presence in work by women and labouring-class poets such as Mary Leapor, Ann Yearsley, Charlotte Smith, and John Clare, whose work reshapes this familiar terrain in literary history. Their poems confirm the churchyard's status as a contested space of social life through a shared focus on the unignorable presence of the body, as the phenomenological tether pulling us to earth in the here and now of material life. Working with this difficult material in a markedly ambivalent poetic register conscious of the unsettled structures of feeling consequent on living in history, the poets in my study use genres invested in the landscape of social life – georgic, pastoral, elegy, and topographical poetry – to render the corporeal impressions of the churchyard as a space in which the social life of the body could be deeply felt and powerfully represented.
My current project, Unearthly Objects: Poetic Knowledge and Queer Form, uses perspectives from queer studies, poetics, and environmental humanities to interpret how eighteenth-century women poets depict dynamic encounters with nonhuman objects, from quills and nails to fossils and atoms. This project proposes that, in negotiating the cognitive and representational challenges posed by these objects in a variety of poetic forms, Leapor, Yearsley, Smith, Anna Barbauld, and Felicia Hemans use nonhuman subjects and innovative poetic strategies to challenge the boundaries of the human and its normative categories. In thinking about forms as shapes of knowledge and language as well as bodies (both human and nonhuman), Unearthly Objects builds on my interest in the queer poetics of knowing and telling differently which is made available in eighteenth-century women's poetry.
Selected publications
Churchyard Poetics: Landscape, Labour, and the Legacy of Genre. Under review with Oxford University Press
'"Death's Refreshing Shade": Elizabeth Carter, "Church-yard Poetry" and Contemplative Retirement in the Gardens of the Dead', forthcoming in Bluestockings and Landscape in Eighteenth-Century Britain: The Prospect of Improvement

, eds Markman Ellis and Jack Orchard (Boydell & Brewer)

'"This ado in Earthing up a Carcase": Robert Blair's The Grave

(1743) as Eighteenth-Century Churchyard Georgic', forthcoming in

Eighteenth-Century Studies
'Un-earthing the Eighteenth-Century Churchyard: Charlotte Smith's Life Writing Among the Dead', European Journal of Life Writing 9, 'Life Writing & Death: Dialogues of the Dead', eds Clare Brant, James Metcalf, and Jane Wildgoose (July 2020), p 56–80
Teaching
I contribute to teaching in the eighteenth century and Romantic period at King's, in addition to courses on poetry and queer studies, and I supervise undergraduate and postgraduate dissertations on topics related to my research interests. In 2023 I was made a Fellow of the Higher Education Academy.
Expertise and public engagement
I am a member of the British Society for Eighteenth-Century Studies, the British Association of Romantic Studies, the British Society for Literature and Science, and the Arts of Place Research Network at the University of Birmingham. I have written reviews for Journal of Literature and Science, Journal for Eighteenth-Century Studies, and Eighteenth-Century Studies, where I have peer reviewed article submissions. I have also been a reader for Romanticism on the Net and Romanticism, Revolution and Reform. In 2018 I was a Research Fellow at the Huntington Library, California.