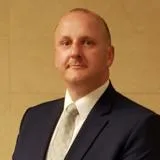 Mr James Pearson-Jenkins RN, BSc (Hons) MSc, PGCE, PGDipEd, SFHEA, RNT
Senior Lecturer Education in Adult Nursing
Contact details
Pronouns
he/him
Biography
James left the civil service to begin his nursing career in Shropshire in 1997 and qualified as a Registered Nurse (Adult) in 2000, working in the Peri-operative environment and completing a rotation through General Surgery, Vascular, Trauma Orthopaedic, Cold Orthopaedic and ENT, Urology and Plastics. Through the completion of a clinical nursing degree, James was able to work in Anaesthetics, Scrub and Recovery across a range of specialities, including obstetrics. In 2001, James completed the Arbeitmeinshaft Für Osteosynthesefragen (AO) Theatre Practitioner Course in Leeds. In 2003, James became a Charge Nurse in the Trust Theatre Education Department at Walsall Hospitals NHS Trust.
Following this role, James entered Higher Education as a Lecturer of Nursing, becoming a Senior Lecturer in 2005. During this time, he developed expertise in clinical skills, digital pedagogy, foundation course development, progression agreements, as well as module leadership roles. In 2015, he became a Principal Lecturer for Multi-media and Laboratory Learning, including a CQC Registered Manager role. In 2018, James moved into a central university role leading staff fellowships and with a focus upon learning spaces.
James was an Associate Professor and Head of Division for Adult Nursing in Leicester and then a Principal Lecturer in Adult Nursing/ Head of Skills and Simulation-based Education at the University of Worcester. During the COVID-19 pandemic, James worked in ITU as a Clinical Reservist and also as a Band 8a Nurse in Charge for University Hospitals Birmingham.
James is a Research Student at the Institute of Education, University College London, studying for an EdD. His research interests centers around inclusive resource design in nurse education.
James has significant consultancy experience, working with RoSPA, local NHS Trust Boards and in the Third-Sector.