 Dr James Sinclair
PhD Candidate
Contact details
Biography
James Sinclair is an English lawyer and social entrepreneur. He qualified as a barrister in 2001 and spent the first five years of his practice working principally on organised crime and international litigation matters.
In 2006, James co-founded FSI Worldwide, which is an organisation dedicated to protecting vulnerable workers from exploitation and abuse in international labour supply chains. The company has now taken many thousands of people out of modern slavery networks by providing them with ethical employment opportunities. In recognition of their humanitarian impact, FSI won the 2013 United Nations Business Leaders Award and received commendations from the Thompson Reuters Foundation and International Stability Operations Association in 2017 and 2018. The company now operates in several countries across Asia, the Middle East, the UK and US.
James holds a Bachelor's Degree in Philosophy, Politics and Economics from York University, a Graduate Diploma in Law and Bar Vocational Qualification from the University of Law and a Master's Degree in International Relations from King's College London. He is a registered Barrister and practicing Solicitor. He holds four Lincoln's Inn law scholarships and is a Fellow of the Royal Society of Arts.
Doctoral Research
UK Government outsourcing of security services overseas: the risks to human rights
This thesis explores United Kingdom (UK) government outsourcing of security and related services in conflict and post-conflict environments and whether such outsourcing causes or contributes to modern slavery abuses. Specifically, it examines the tiers of contracting and subcontracting that lead to the employment of third country nationals (TCNs) in support of British military and diplomatic missions abroad.
The time-period under examination runs from 2000 until 2015. There is a specific focus on the provision of British Embassy guarding services provided by private security companies in Iraq and Afghanistan. As many TCNs employed to service these contracts are recruited in Nepal, this study analyses the operations of Nepalese overseas recruitment companies, which have a reputation for illegal and unethical exploitation of recruits.
This thesis addresses several thematic questions in relation to outsourcing and marketization. Firstly, whether it is appropriate for security services to be outsourced in any event. Secondly, if there is a good case for outsourcing, whether the procurement processes governing the recruitment and management of TCNs are fit for purpose. Thirdly, whether current oversight mechanisms are sufficient to monitor and control the behaviour of contractors during the life cycle of a project. Finally, whether the system is delivering optimal results both in terms of operational efficiency and the protection of human rights.
The evidence presented in this thesis suggests that the procurement and oversight systems employed by the UK government are insufficient to ensure compliance with national and international human rights laws and ethical norms in relation to the employment of vulnerable workers in their supply chains. The UK government should implement more appropriate governance and contractor oversight mechanisms to ensure that UK taxpayer funds are not used to perpetuate the abuse of vulnerable workers.
Research Interests
Modern slavery, UK government outsourcing, third country nationals, supply chains, corruption, international law, vicarious legal accountability, international political economy
Supervisors
Professor Richard Ned Lebow, Dr Christopher Kinsey
Research
The FSPR provides a hub for scholars interested in studying the private security sector.
News
PhD Student James Sinclair conducted a guest lecture to students at Swansea University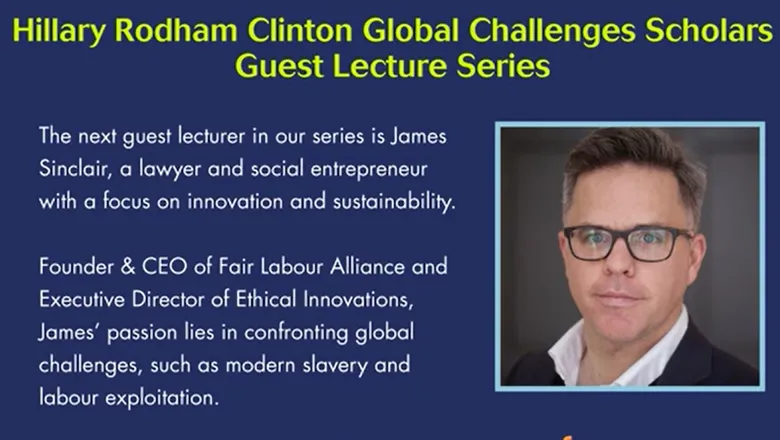 Research
The FSPR provides a hub for scholars interested in studying the private security sector.
News
PhD Student James Sinclair conducted a guest lecture to students at Swansea University