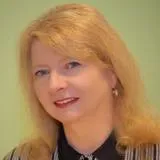 Ms Jayne Heaford
Teaching Fellow in Marketing
Contact details
Biography
Jayne Heaford is a Teaching Fellow in Marketing at King's Business School. Jayne has taught Brand Management on our Marketing MSc programme since 2013, and foundation marketing for undergraduates since 2017. Immediately prior to joining King's, she worked with major corporates and global agencies to design and deliver large-scale programmes to develop the capabilities of their marketing, sales and leadership teams.
Jayne's work in corporate training and education draws on decades of practitioner experience that covered international, industrial, B2B, B2C and services marketing. Within internal posts, and as an Agency Director leading strategy and creative teams, she has developed marketing, brand communications or capability solutions for more than fifty companies.
Her interest in holistic brand building began from work on internal marketing initiatives for major brands, which was the focus of her Masters degree and continues to date. Other current research interests are transformative services and education innovation.