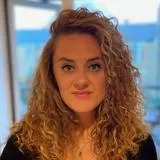 Dr Jelena Dzakula
Lecturer in Digital Media and Communication
Contact details
Biography
Jelena joined King's in 2020 as a Lecturer in Digital Media and Communication. She has previously worked at LSE as a Fellow, at the University of Westminster as an Associate Lecturer, and at Ofcom as a Policy Advisor.
Jelena specialises in media and communications regulation and policy, citizenship, technological developments, and governance innovations. She has been lecturing for over a decade and has won multiple awards for her contributions in this area. Jelena has conducted research for and advised European Commission, RISJ, University of Oxford, Food Standards Agency, and a number of start-ups, consultancies and think-tanks.
Jelena holds a PhD in Media Policy from the University of Westminster, CAMRI, a Master's degree from the same University, and a Bachelor's degree in Linguistic and Literature from the University of Belgrade, Serbia.
Research interests and PhD supervision
Governance innovations
Data and platform governance
Media and communication technologies
Democracy and citizenship
Power and culture
Teaching
Jelena's teaching covers a number of areas: theoretical approaches to the study of media, culture and communication, governance, policy and regulation, cultural studies and creative industries, research methods, and critical approaches to promotional industries.
Research The Centre for Digital Culture at King's College London is an interdisciplinary research centre promoting research and debate on digital culture
Status not set
Research The Centre for Digital Culture at King's College London is an interdisciplinary research centre promoting research and debate on digital culture
Status not set