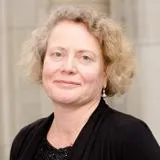 Jennifer Blinkhorn
EAP tutor
Contact details
Biography
Jennifer holds an undergraduate degree in Humanities, specialising in History and Linguistics, from Hertfordshire University and completed her MEd in Education and Development (Distinction) at Bristol University in 2004. She completed her Cambridge DipTEFLA in 1991.
Jennifer has over 15 years teaching experience in Greece, Indonesia, Saudi Arabia, Syria and Sudan, as well as in the UK, including at the University of Manchester and the University of Bristol. She has spent over 10 years working with non-governmental organisations in designing, managing and supporting the development and implementation of a range of education projects in conflict affected countries (Afghanistan, Pakistan, Sudan, Iraq, Syria (Jordan, Lebanon, Turkey, Egypt)). She has also worked as an examiner for various exams (IELTS, EdExcel IGCSE, Cambridge FCE and CPE).
Her current professional interests include special needs education, counselling and supporting front-line staff working with refugees and asylum seekers.
In her free time she enjoys hiking, camping, and playing the flute.