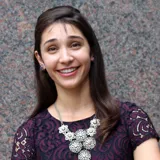 Jessica Malekos Smith
War Studies Online alumnus
Reuben Everett Cyber Scholar at Duke University Law School, United States
Biography
The ancient Chinese philosopher Lao Tzu wrote that 'a journey of a thousand miles begins with a single step.' For me, taking that single step in applying to King's College London's Department of War Studies distance learning MA programme has led to an incredible academic and professional journey. Studying MA International Relations and Contemporary War has helped accelerate my professional development in ways I never had imagined. As the Cyber Scholar at Duke University Law School and a former Captain in the US Air Force Judge Advocate General's Corps, the War Studies Online (WSO) course modules on International Law and the Use of Force and International Relations have been particularly valuable in augmenting my knowledge.
What distinguishes WSO is its impressive variety of modules, flexible mode of study for full-time working professionals, and engaging discussions with students from all over the world. The online learning platform enables students to stay well-connected with peers and lecturers, as well as have single-stream access to the course materials and research support from King's College London Library.
For those considering whether to pursue an advanced degree with King's College London, I highly encourage applying and beginning your journey of a thousand miles.