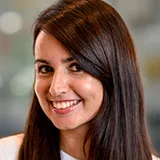 Jessica Marcos
Institute Business Manager
Contact details
Biography
Jessica joined King's in February 2013 as an Administrator for the Centre for Science & Security Studies (CSSS) and Centre for Defence Studies (CDS), Department of War Studies. Jessica then moved on to a role as CSSS Head of Operations in January 2016 and went on to become Interim Business Manager for the School of Security Studies. She started her role as Operations Manager at the Policy Institute in 2017 and has been Institute Business Manager for the Global Institute for Women's Leadership and the Policy Institute since January 2018.
Jessica also leads on various executive education programmes across the Institute's units and affiliated School; the International School for Government. She has managed the School's recent contract for the delivery of the European Capitals Programme in partnership with Hertie and LUISS, the International School for Government's Public Service Executive Education Programme for the Qatar Leadership Centre, and more recently has taken on the role of project management lead for OpDel Excel; a programme designed to provide EY with academic content and support for the Operational Delivery programme at the UK Civil Service.
Jessica is also working in collaboration with the King's Business School in the preparation of an executive education course on building gender inclusive workplaces for women leaders.
She holds a degree in Translation Studies from the University of Westminster and recently completed postgraduate studies in Higher Education Administration, Management and Leadership at Nottingham Trent University, in collaboration with the Association of University Administrators (AUA).