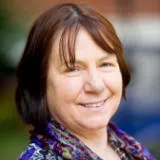 Professor Jill Manthorpe CBE
Professor Emerita of Social Work
Contact details
Biography
Jill is Professor Emerita of Social Work at King's College London. She was made CBE in the Queen's Birthday Honours List 2022 for services to social work and social care research. From January 2019 to March 2023 she was Director of the NIHR Policy Research Unit in Health and Social Care Workforce, based in the Policy Institute.
From 2002-2018 she was Director of the Social Care Workforce Research Unit at King's (initially sharing the position with Peter Huxley). Professor Manthorpe is an NIHR Senior Investigator Emeritus and participated in a Senior Leadership programme funded by the NIHR with Ashridge Management School. She has been involved in advisory work for the Department of Health and Social Care on several subjects and has worked closely with several social care and health sector employers to link research, policy and practice.
She has presented research findings to international conferences in Australia, Singapore, Norway and Northern Ireland; she has also travelled widely in the UK to speak with local and regional networks, mainly through Making Research Count. She has worked on a number of Unit studies funded by the Department of Health and Social Care and also on other studies funded by the NIHR, the ESRC, and research charities with Unit colleagues and other research teams. Jill has also provided assistance on workforce matters to local councils, NHS bodies, and employers on a pro bono basis and to user, carer and patient groups about evidence and communications. She has provided expert advice to NICE and to other NHS Arm's Length Bodies about care services and workforce initiatives.
Within King's College London, Jill supervises post-graduate and doctoral students to build capacity in workforce research.
Jill is a Trustee of the Order of St John Care Trust and of the Centre for Policy on Ageing and Patron of the Greater London Forum of Older People.
She is a Fellow of Skills for Care and was appointed Fellow of the Academy of Social Sciences in March 2015.
Jill Manthorpe: Recent publications | ORCID iD | Research Profile at King's