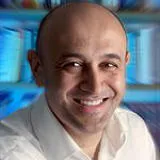 Jim Al-Khalili OBE
Cultural Fellow
Biography
Jim Al-Khalili OBE is a Cultural Fellow within King's College London.  
A scientist, author and broadcaster, Jim is currently a professor of physics at the University of Surrey where he currently teaches and conducts research in nuclear physics and quantum mechanics. He has held a chair in Public Engagement in Science since 2005. He received his PhD in nuclear reaction theory in 1989 from Surrey before working as an SERC Postdoctoral Fellow at UCL. He returned to Surrey and was awarded a five-year EPSRC Advanced Research Fellowship in 1994 before being appointed as a permanent member of staff in 1999. Jim is a recipient of the Royal Society Michael Faraday medal and the Institute of Physics Kelvin Medal and received an OBE in 2007 for 'services to science'. 
Jim is an active science communicator and has written a number of popular science and history of science books, between them translated into over twenty languages. He is a regular presenter of TV science documentaries and for the past four years has presented the award-winning weekly BBC Radio 4 programme, The Life Scientific.