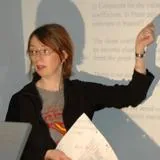 Professor Joanne Lindley
Professor of Labour Economics
Contact details
Biography
Jo Lindley's main research interests are labour economics, with a particular focus on the economics of inequality and disadvantage. She moved to King's in 2013 from the University of Surrey. Her teaching expertise is in labour economics, applied econometrics and statistics.
Jo's PhD thesis was entitled `The Economics of Racial Disadvantage' but since its completion in 2000 her research interests have slowly moved towards more mainstream topics in the economics of inequality domain.
Her recent work on within-graduate wage inequality investigates the mechanisms that underpin the growth in postgraduate study, as well as investigating the role of subject of degree, paying particular attention to the relationship between the supply of skills and changing employer demand for skills, and the extent to which the latter has arisen from changing technology and/or globalisation.
Jo is a member of the Society of Labor Economists and the European Association of Labour Economists and a regular participant at their annual meetings.